Empowerment Is Baked Into Everything We Do!
Together We Bake is a comprehensive workforce training and personal development program for underserved and underrepresented women in the Northern Virginia/Washington D.C. area.
SHOP TWB PRODUCTS
Shop TWB's handmade cookies, granola, and trail mix – all sales support our job training and empowerment program!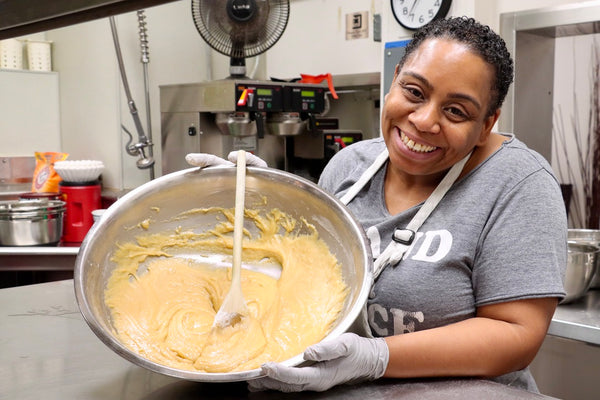 Help Bake the World a Better Place
"Together We Bake changed my life and provided my soul with an inner peace that I will forever be grateful for. I feel so loved, so supported, and most importantly so safe for once in my life thanks to my family here at Together We Bake."
-Colida, Kitchen Manager and Spring 2014 Grad
HELPING WOMEN ON THEIR JOURNEYS TO SELF-SUFFICIENCY
Together We Bake's mission is to provide a comprehensive workforce training and personal development program to help underserved women gain self-confidence, transferable workforce skills, and invaluable hands-on experience which will allow them to find sustainable employment and move toward self-sufficiency.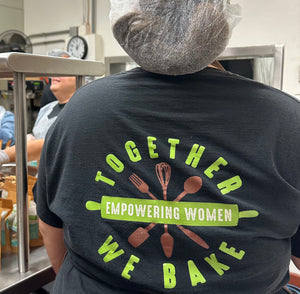 WHO WE SERVE
Together We Bake supports women facing barriers to employment, including involvement with the criminal justice system, homelessness, recent immigration to the country, domestic violence, abuse and/or trauma, and behavioral health challenges. Our vision is to empower women facing barriers to progress in their career trajectories and toward self-sufficiency. TWB believes in a society where women are valued and have the support they need to be whole and break the cycle of trauma and abuse.
Learn more
Together We Bake has impacted me on so many levels. I have broken out of a shell that I was hiding in for many years and have a sense of identity of who I am. They have given me new tools to implement in my everyday life like breathing, yoga, negotiation skills and ServSafe. But, most of all, a sisterhood of so many beautiful souls.
-Reina
Production Associate, Fall '21 Grad
This is more than a meeting place. It's a place where we recover our identities as women, as productive beings. We recover our dreams. We no longer feel disoriented in an unknown country. We find the direction and we find the purpose. We recover what we came to this nation for, knowing that there are people who extend their hand.
Rosa
TWB doesn't just impact me – it also impacts my family and my whole life because everything that I'm learning I'm sharing with my family and my daughter. I feel like it has made a tremendous impact on our relationship and all my other relationships, too.
-Lisbeth
Program Manager, Winter '15 Grad