The Basics
Our Program
Together We Bake (TWB) is an empowerment-based workforce training program for women facing barriers to employment. Our program is centered around a small baking business through which women actively learn and participate in food production, food safety education, and business administration. We also teach empowerment and life-skills classes to help women develop self-confidence, healthy coping strategies, and a strong support network as they move toward self-sufficiency. Each woman graduates job-ready, empowered, and with a nationally-recognized ServSafe certificate, resulting in preferential hiring and higher wages.
TWB has three sessions per year (Winter, Spring, and Fall). Each session is 8-10 weeks long and runs on Tuesdays, Wednesdays, and Thursdays from 9:30 – 2:30. If you are interested in becoming a Team Member, please click here. 
Spanish-Speaking Program: TWB piloted a new job training and personal development program for Spanish-speaking women in Summer 2023! The expansion of TWB's programming is helping meet the need in our community of Spanish-speaking women who otherwise would not be able to participate in our program. 
Future Spanish-speaking sessions are TBD. Please contact TWB's Program Manager, Lisbeth, if you are interested in becoming a Team Member.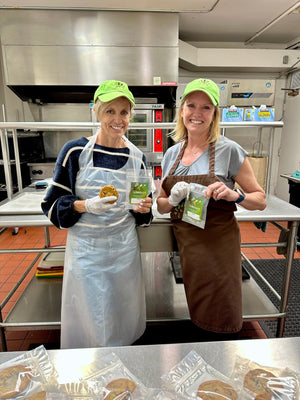 Our Backstory
Co-founders Stephanie Wright and Tricia Sabatini first became friends through their children at Douglas MacArthur Elementary School. Their friendship grew as they became running partners and co-coached Girls on the Run. In 2011, while training for the Marine Corp Marathon, Tricia and Stephanie shared their dreams of helping women in their community. Stephanie has a background in social work and Tricia was operating a small baking business out of her home, so they decided to combine their strengths and create an innovative program to help women in need of a second chance. Over many miles and hours of training, the concept of Together We Bake was born.